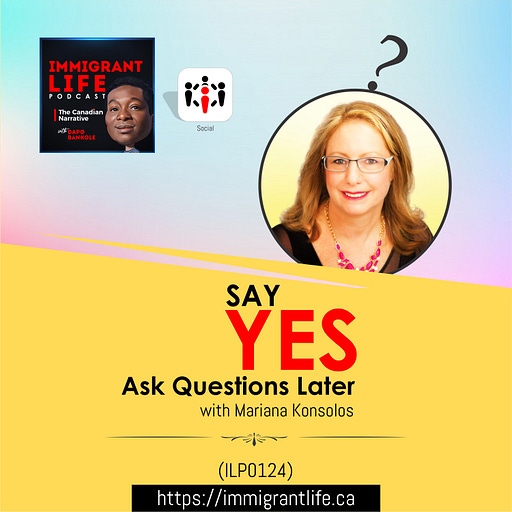 May 23, 2020 • 32M
ILP-0124: Say Yes Ask Questions Later With Mariana Konsolos Part 1
Get the lessons learned, tips, strategies and actionable insights that will help you thrive as a first-generation Canadian immigrant. Enjoy the Canadian Narrative of an immigrant's life.
I had a fun time recording this episode with Mariana Konsolos. Mariana is a first-generation Canadian of Uruguayan heritage. In Uruguay, Marian was pretty much a princess! She had the best things in life and thrived as a real estate entrepreneur. She had wealthy individual and corporate international customers yet, she opted to leave her comfort zone and move to Canada. Why?
Typically, she faced initial challenges in adjusting to life in Canada. However, she said yes to herself and moved beyond the acceptable excuses to start a business that thrived nationwide. Surprisingly, she got rid of the business - the goose that laid the golden eggs. Why did she do that?
She went further and started yet another business that again thrived - this time beyond her wildest imagination. A few years ago, she retired and has been traveling the world to wherever she is needed. When destiny calls, she shows up.
How is she doing this?
She has now provided answers in a book that she titled "Say Yes Ask Questions Later" which shortly after launching on May 1 became a bestseller on Amazon! I'll cut to the chase - buy her book!
Mariana is an amazing positive influence in her tribe and is now on a mission to invest her retirement period in you and I. And if you want to go above average and be committed to your own growth and success, join her FREE VIP book club!
If you want to know what drives this energetic lady and access her experience and wisdom, listen to this podcast and tell your friends, families and colleagues about it.
You're welcome ;)
Dapo