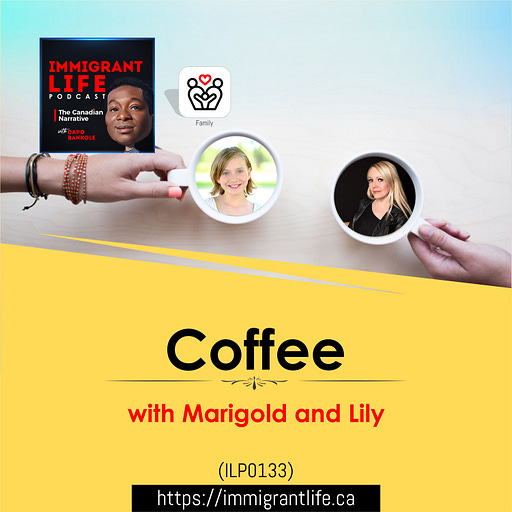 Jun 28, 2020 • 51M
ILP-0133: Coffee With Marigold And Lily
Get the lessons learned, tips, strategies and actionable insights that will help you thrive as a first-generation Canadian immigrant. Enjoy the Canadian Narrative of an immigrant's life.
In today's episode, we have two special guests - a mother and her child, Lily and Marigold respectively. I had a fun coffee chat with both Lily and Marigold. An abridged version of their bios is below. Please get inspired by reading about them and listening to the podcast!
Lily Ahonen is a Nurse and Foster Parent in the Specialized Foster Care Program, caring for medically fragile children. She loves to travel and has been to over 40 countries. Lily enjoys activities like running with bulls, car racing, rappelling down buildings for charity, and skydiving. She hopes to finish her Private Pilots License one day. Lily is Ms. Galaxy Calgary 2020/2021 and was the 2019 National Canadian Ms. Calgary Titleholder. She is a living organ donor, having donated her kidney to a childhood friend in August 2019. She is a divorced mom to 11 year old Marigold. Her next goal id to learn how to breakdance.
Marigold Mioc is 11 years old and in the 5th grade. She was the National Canadian Young Calgary titleholder for 2019. She was Little Miss Calgary in 2016. She attended many events in the city during her reign where she volunteered her time, fundraised, and gave speeches as a representative of Calgary.
She has had a business, called Marigold's Heart Garden, since the age of 5, making and selling headbands.  
She is interested in human rights, modelling, gymnastics, reading, travel and has a strong love for animals. 
She regularly attends human rights rallies, community events and motivational workshops. She enjoys attending policy planning meetings and has worked on writing her own policy for continuing education. She is a speaker at various events and facilitates leadership classes for youth. 
She has used her own money to help sponsor a family from Syria as a Group of 5 sponsorship in 2015, and for buying food, Christmas gifts and toys for the homeless. She has helped with securing donations of baby items and cash donations for Made by Momma, a local charity. She has helped to secure donations of toys, furniture and clothing for newcomer families and is active with many other charity groups. She is currently sponsoring a girl in Kenya to attend secondary school for 4 years, through the WE Organization. She has finished 1.5 years of the sponsorship so far. She uses the money from her headband business to fund charitable works. 
She is a Youth Ambassador for hundrED, a global educational organization based in Helsinki, Finland and the youngest member of the Calgary City Chapter of Engineers Without Borders. She is a Youth Ambassador for 1Girl, an organization which empowers girls and teaches leadership skills. 
She is an international speaker, having spoken in Europe, Africa and Canada. She is an international runway model and walked in New York, Paris, Milan, Toronto and Vancouver Fashion Weeks in 2019 and 2020. She is represented by Patti Falconer International. 
Marigold's role models are Marc & Craig Kielburger, Malala, Oprah Winfrey, Martin Luther King Jr, Tony Robbins, Sharla Brown many more. 
She has received awards for community service, including the 2019 Diana Award, 2018 Rising Star Influencer Award from True Beauty Foundation, 2018 Top Twenty Under 25 Entrepreneur Award from Think for Actions, 2018 Great Kids Award from the Alberta Government, 2017 Volunteer Award from the Federal Government and more.