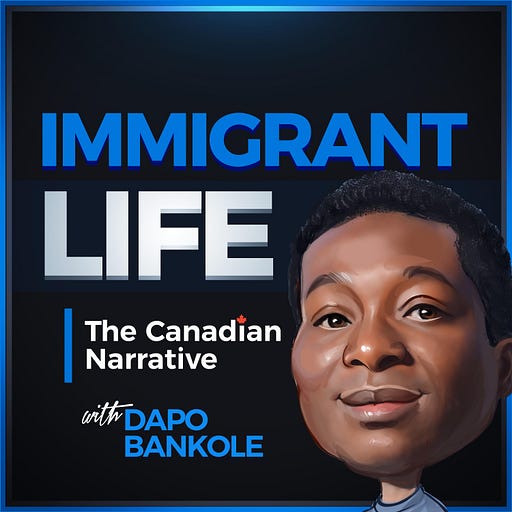 Dec 18, 2019 • 45M
ILP0063: International Migrants Day 2019
Get the lessons learned, tips, strategies and actionable insights that will help you thrive as a first-generation Canadian immigrant. Enjoy the Canadian Narrative of an immigrant's life.
December 18 of every year is International Migrants Day. This annual day celebration was started in 2006 by the United Nations as a day to recognize and acknowledge the resilient spirit and contributions of migrants worldwide. It is against this backdrop that Aisha Jamal and I met in the Immigrant Life studio to discuss what today means for Canadian immigrants and Canada at large. Aisha Jamal moved to Canada as a refugee in 1991 and holds a Ph.D. in contemporary drama and cinema with a focus on ethnicity, race, and nation.
Obviously migration is important and a topic of international interest for example; latest statistics from the United Nations say that "In 2019, the number of migrants globally reached an estimated 272 million, 51 million more than in 2010." The 272 million equals 3.5% of the world population. It sounds small but the rate of growth has been faster than anticipated which is probably why it is a major topic of discussion world over particularly in the US. In my opinion, international migration needs to be embraced rather than fought. It needs to be an integral part of the development strategies and agenda of any nation. It is tomorrow's reality that we live in today.
What can western nations do differently to help this group of people and what can Canada do better? Although focused on Canada, Aisha's desire to reduce the wait time in Canadian immigration and make the process much more transparent is applicable to any nation.
And as we stop to think and celebrate the contributions made by millions of Canadian immigrants to the Canadian economy, Aisha also enjoins everyone to celebrate, promote and respect the human rights of migrants.
This year's theme is focused on social cohesion and that underscores why I started Immigrant Life. Immigrant Life is Canada's leading online resource for immigrants to discover, thrive and make a difference together in their chosen spheres of influence. It is immigrants helping immigrants to thrive within a safe and cohesive community.
Again, we acknowledge and celebrate immigrants for our resiliency, our courage and the amazing contributions that we make to our host countries. Thank you, Canada for the opportunity.
Dapo Bankole
#WeTogether. #WeDiscoverTogether #WeThriveTogether #WeMakeADifferenceTogether